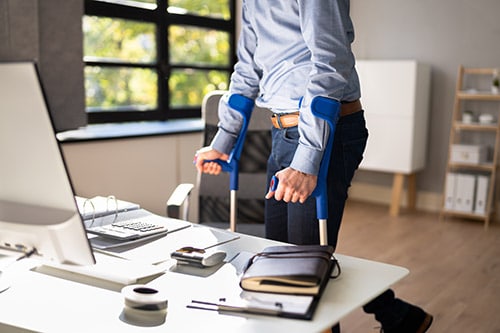 All Canadian jurisdictions have their own Workers' Compensation Boards that provide insurance for workplace illnesses and injuries.* The workplace insurance system in Ontario is administered by the Workplace Safety and Insurance Board (WSIB).
What is WSIB?
The Workplace Safety and Insurance Board is an independent trust agency of the government of Ontario. WSIB provides no-fault workplace injury and illness insurance to Ontario workplaces in accordance with the Workplace Safety and Insurance Act, 1997. WSIB is funded by employer premiums.
The Workplace Safety and Insurance Board in Ontario is responsible for promoting workplace health and safety, supporting injured employees recover and return to work, and for providing compensation and other benefits to injured workers and their survivors.
What is the Workplace Safety and Insurance Act (WSIA)?
The Workplace Safety and Insurance Act is a legislation in Ontario that outlines the benefits and services for employees who suffer injuries and illnesses in the workplace.
How does the workplace safety and insurance board (WSIB) operate?
Businesses required to register with WSIB pay premiums in exchange for workplace insurance coverage. It is a no-fault insurance system. This means employees get workplace insurance benefits (healthcare coverage, wage-loss benefits, and return-to-work assistance) without needing to prove that their employer was to blame for their injury or illness. They must only demonstrate that the injury or disease was related to work. Employers contribute to an accident insurance fund by paying regular premiums and get protection from being sued for work-related injuries.
Both employers and employees can appeal WSIB decisions.
What businesses are required to register with WSIB?
Most Ontario businesses are required to register with the Workplace Safety and Insurance Board within 10 days of hiring their first employee. WSIB coverage is mandatory for certain businesses, such as manufacturing, construction, sales, trucking or transportation, restaurants or bars, and for homeowners or private residents hiring domestic employees (gardener, sitter, nanny, etc.), who work for more than 24 hours in a week.
Businesses that are required to but do not register with WSIB may incur penalties, investigation, and provincial offences charge. They may also have to pay retroactive premiums.
If you're a non-resident business but employ an Ontario resident to work for you in Ontario, you are required to have WSIB coverage for them.
What types of businesses are not required to register with the WSIB?
Businesses not required to register with WSIB include banks, trust and insurance companies, trade unions, private day care, travel agencies, photography businesses, barber shops and hair salons (with exceptions), and funeral or embalming establishments.
Though getting WSIB coverage is not mandatory for such businesses, they can still choose to have WSIB insurance if they wish to.
What to do if an injury happens at work?
If a worker is injured on the job, as the employer you must:
Administer first aid and maintain records of the treatment provided.
If the worker requires treatment from a medical professional, you must either take them to a health professional, or pay for the cost of their transportation on the day of the injury.
If the injured worker only needed first aid, you are not required to report the injury to WSIB. But you must investigate the matter and maintain an accurate record of what happened, and the measures taken to rectify the safety issue.
What are my reporting rights and responsibilities as an employer under WSIB?
Employers must report a workplace injury or illness to the WSIB, using WSIB Form 7, within three days of learning about it if the injured employee needed treatment from a health professional, or was absent from work, or earns less than regular pay. A copy of the injury or illness report must also be provided to the injured employee, who must fill out and submit Form 6 – Worker's Report of Injury or Disease.
If the worker did not need treatment by a health professional but has been doing modified work, employers must still report the injury or illness. Modified work would include any alteration in their regular job while recovering from an injury or illness for more than seven days (at regular pay). You must report to the WSIB on the eighth day of modified work.
The term employee here includes anyone employed in your business, including family members, seasonal workers, students, apprentices, certain domestic staff, and so on.
Employers are required to report all cases of needle stick injuries unless they have a surveillance protocol in place.
If employers have doubts whether an injury or illness is work-related, they should still report the issue and leave the decision to WSIB. Not reporting a workplace injury or illness, discouraging or delaying reporting, withholding details or sharing false details or forcing an employee to withdraw their WSIB claim are illegal actions that could invite penalties and prosecution.
How does reporting and paying premiums work?
To pay their premium, employers must first report their premium and then make premium payments online. To calculate your premium, multiply your gross insurable earnings by your premium rate (based on the type of business) and divide by 100.
Premiums not reported on time result in a non-compliance fine.
The insurable earnings thresholds for monthly and quarterly reporting is as follows:
| | |
| --- | --- |
| Insurable earnings | Reporting and payment frequency |
| | |
| $1,000,000 or more | Monthly |
| | |
| $20,000 to $999,999.99 | Quarterly |
| | |
| Less than $20,000 | Annual |
In what cases would I need a WSIB clearance certificate?
Contractors or subcontractors may get a WSIB clearance certificate to show they are registered with the WSIB and report and pay premiums on time.
When retaining the services of a contractor to perform construction work, businesses must obtain a clearance certificate confirming that the contractor is in good standing with WSIB. Clearance certificates help businesses avoid liability for premiums owned with regard to services or work being done.
How do I register my business with WSIB?
Businesses, who have hired at least one employee, can register with the Workplace Safety and Insurance Board online. Alternatively, you can also register by phone, by mail or fax.
Please note that the premiums only cover the employees and not the owners (except for most construction businesses). If they want to, owners can apply for WSIB coverage for themselves provided they have coverage for their employees.
*All Canadian jurisdictions have their own Workers' Compensation Boards that provide insurance for workplace illnesses and injuries, except for Northwest Territories and Nunavut who have a combined Workers' Compensation Board.