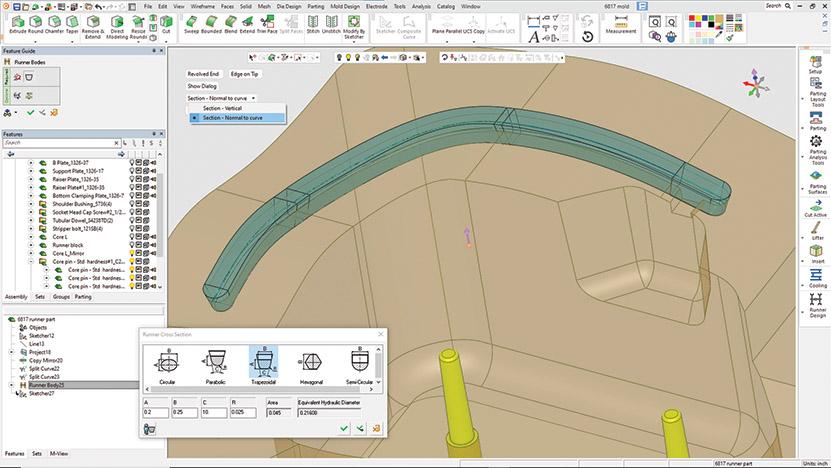 Cimatron has released its 2024 version with stronger core capabilities and new technology through collaboration with Sandvik Coromant. It simplifies and automates many tasks for tool designers for higher productivity, and more options for digital connection, the company states.
Efficiency remains a key focus, with a number of advanced user workflow updates including multiview spacing, batch processing for drawing updates, tangent control for blending faces, and an easy option for capping internal islands. CAD users will enjoy many new features for 2D drafting as well, such as importing PDFs as real geometry and text, new minimum distance dimensioning, enhanced symbols, and improved geometric datum and tolerancing (GD&T).
It also introduces a new GUI for controlling drafting standards, improved draft analysis visualization, and automated chain selection of chamfer faces.
CAD enhancements for moldmakers enable rib construction with added functionality for working on multiple curves in a single operation and automatically extending rib geometry to part side walls. In addition, the software can now create partial ribs in complex scenarios where a complete rib cannot be produced. Within mold design, the construction of 3D runners has been improved, providing better design control based upon constant volume, vertical orientation, and section orientation.
Electrode design is a critical aspect of the mold production process. This new version includes automation for the Burn Body operation to optimize the electrode body shape, control of electrode extensions, and non-cutting rules for manual construction.
Die designers can now easily build 3D drawbead geometry to control material flow during the drawing operation to achieve the optimal forming of a part without cracks and wrinkles. The new routine will generate the drawbead based upon section type and automatically blend the result into the binder faces.
This software places a strong emphasis on digital connectivity and uses the Sandvik Coromant CoroPlus Tool Library and TDM tool management system. By leveraging the tool library, users gain access to a collection of more than 900,000 cutting tool items, with the system making intelligent tool recommendations based on material, operation, and tool type. This integration optimizes the machining process, delivering better results without the need for manual data entry, the company states.
Cimatron | www.cimatron.com
Reposted from: https://www.canadianmetalworking.com/canadianmetalworking/product/automationsoftware/cimatron-2024-cadcam-software-automates-tasks-for-moldtool-designers